Most major camera equipment manufacturer's are now making almost all of their digital cameras with Secure Digital (SD) memory for the storage platform. The once popular compactflash card is slowly being pushed aside, and for very good reason--size. Using a smaller storage device allows equipment makers to either decrease the size of their cameras, or to pack more image-crunching electronics inside the same sized body.
Another benefit of SD memory: less breakdowns. As often as once every week we see a customer walk through our doors with a very sour look on their face. The culprit for the poor mood is a bent pin in their camera's CF card reader. If you have a digital camera that takes CF memory, take a look inside the door where the memory card goes. Inside there you will see two rows of gold-colored pins. If a CF card does not align just right when being inserted into the card reader, you can very easily bend one or more of those pins. Once that happens, lights out, and time to send the camera in for a repair. SD cards have electrical contacts on the back side, and they do not require intrusive pins to transfer data--just other electrical contacts to press up against them.
Hoodman has been making innovative products for a while now, and we like their products and them as a company. Recently they developed a more ruggedized version of the standard SD card. These cards cost a little more than the ordinary card, but for good reason. More care is put in to the manufacturing of these cards, and it means better results and longer life for your precious photographs.
First, these cards meet class 10 specifications, so they are fast. Fast enough for the highest resolution, video-shooting DSLRs currently out there. Second, they are waterproof, so go ahead and forget them in your pants's pocket and throw them in the wash. If you do a lot of shooting, you most likely know what that is like. Third, the actually memory chip is physically smaller. Why would that matter? The plastic housing has more plastic in it because the memory chip and associated electronics are taking up less room, which makes it more rigid and stronger. Fourth, there is an actual steel plate affixed to the top of the card. Again, more rigidity to help the card from being cracked or ruined. Fifth, and the coolest part, there's no soldering. These cards have acid-etched circuitry right on board. Less solder means less additional conduits for the data to travel through where noise can be induced in your photographs (and you thought a photograph was just a photograph).
The product manager from Hoodman was recently at our store, and he allowed us to take his sample RAW STEEL memory card apart to photograph the insides. He also had a very well loved traditional SD card already taken apart for us to photograph too.
Here is the top view to showcase the steel plate of the Hoodman RAW STEEL card:
Here is the card taken apart. The part with the gold electrical contacts is the entire memory chip. The rest of the plastic housing where this chip does not sit is filled in with more plastic to be more rigid (32GB memory chip is larger, so this does not apply for that card).
Here is a closer look at the memory component and associated electronics: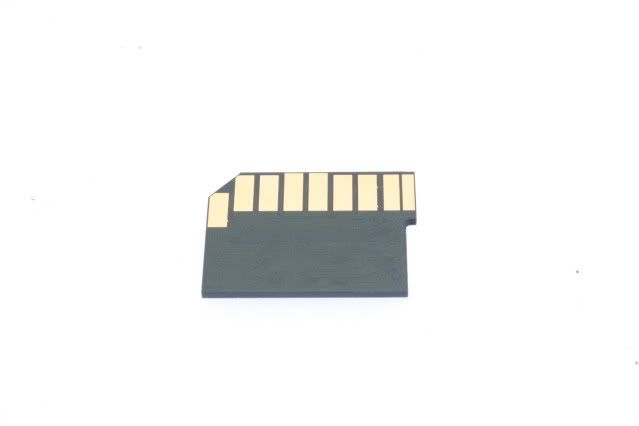 Compare that to a traditional card where everything is laid out in the open and not as compact (probably not good if the card becomes water-born):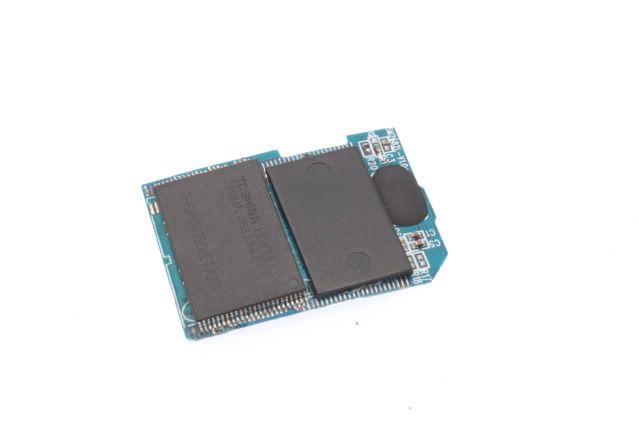 Due to the larger size of the internal structure the external plastic housing is thin and frail (and as you can see cracks and breaks easily):
If you are serious about your photography and use your equipment hard, you should definitely consider the RAW STEEL cards available by Hoodman. We carry the full line of Hoodman Raw Steel SD memory cards, and they can be found for sale at our website here:
Hoodman 4GB RAW STEEL SDHC Memory Card
Hoodman 8GB RAW STEEL SDHC Memory Card
Hoodman 16GB RAW STEEL SDHC Memory Card
Hoodman 32GB RAW STEEL SDHC Memory Card