Today we received our first shipment of the Olympus M.Zuiko Digital 14-42mm f/3.5-5.6 IIR (2R) MSC lens. We received them in both black and silver. We were curious to see how the lens looked and felt compared to the previous version (II, non-R). So, we decided to place the two lenses next to each other and take a couple pictures. What we quickly discovered is that both lenses are essentially identical in size. After the photo shoot we even gave them a quick weighing and found them to be essentially identical in weight too, both weighing in at approximately 110-112g.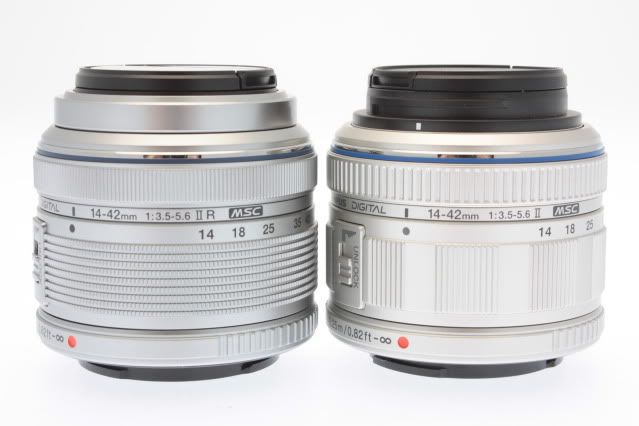 As mentioned, and as you can see, the two lenses are approximately the same height when collapsed. The newer lens (on the left), does appear to be a little bit taller, but this is just an optical illusion. There is actually a cosmetic cap that covers the bayonet mount, where you can add a dedicated lens hood (not included). We like this cap. We think it keeps things looking really clean. The only problem we can foresee is, what do you do with it when you use the dedicated hood? Seems like a piece that can get easily lost...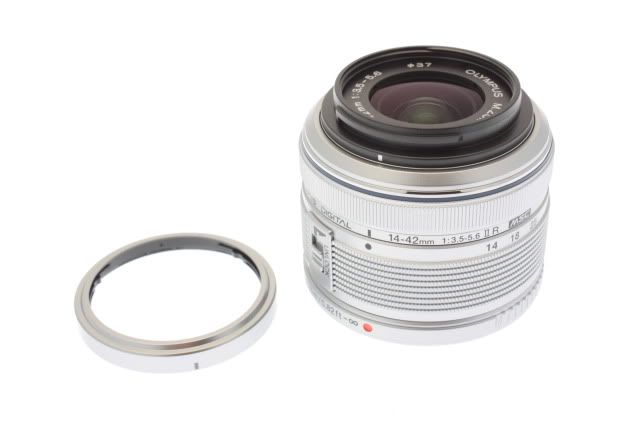 Here is the lens with that cover removed (don't lose it!). Just a simple bayonet mount under there.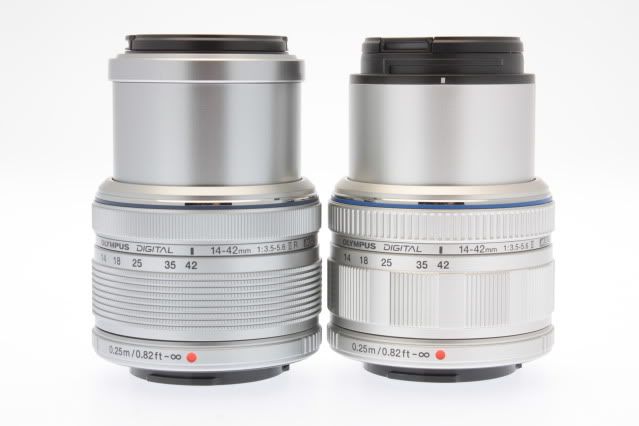 Even with the lenses fully extended, both are essentially the same size.  Here you can see that both lenses are fully extended to 42mm.
Here's a top view of both lenses next to each other. Everything looks pretty much identical. The new lens still uses a 37mm filter. At this angle you can see how that cover we've been talking about really makes the lens look sleek and clean.
You might now be wondering, what does the lens look like on camera? Well, here it is on an E-PL2.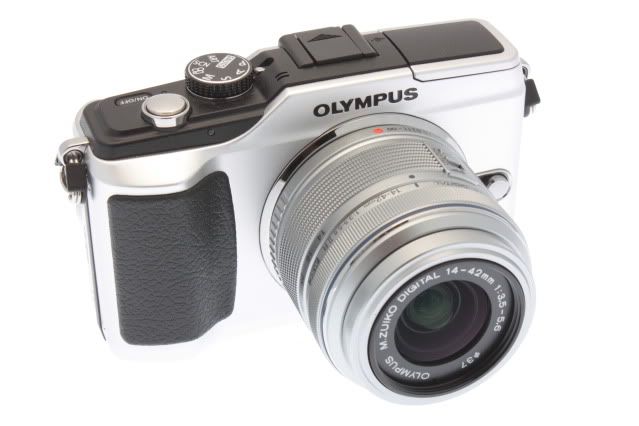 Looks pretty good, but not as good as on the E-P3. The E-P3 and E-PL3 are definitely designed with this lens in mind. The silver of this lens, as you may have already noticed, is different in shade than the silver of the previous version lens. It is a darker shade, and so it doesn't match the shade of the silver E-PL2 as well.
Finally, it looks nice, but how does it feel? The lens feels good, but you can definitely feel the difference in the gnarling of the grip around the zoom and focus. The grip doesn't feel as "catchy" as the previous version. Having said that, we didn't have any problem with our fingers slipping while on the grip. We did notice, to our surprise, a big improvement in the feel of the manual focus. The manual focus ring felt better dampened. Whereas, with the previous version, the manual focus felt loose and airy, the manual focus of the newer version lens feels tighter and more firm.