Description
Details
The Canon EOS 70D is a powerhouse featuring a revolutionary autofocus technology that unlocks the potential of Live View: Dual Pixel CMOS AF. This technology allows the EOS 70D to capture video in Live View with smooth and precise autofocus similar to that of a camcorder, complete with the superb image quality that is a hallmark of EOS cameras.
The Dual Pixel CMOS AF provides fast and accurate autofocus during Live View still image capture, enabling you to fully benefit from the freedom of angle allowed by the Vari-angle Touch Screen 3.0-inch Clear View LCD monitor II. Compositional options are now nearly limitless with the two real-world choices of Live View and viewfinder shooting. To further empower the photographer, Canon engineers spent months ensuring that the cutting-edge Dual Pixel CMOS AF on the EOS 70D is compatible with 103¿Canon EF lenses, greatly expanding creative possibilities. Built-in wireless technology and the EOS Remote app* further enhance shooting versatility, as well as enable easy sharing. Brilliant image quality is provided by the EOS 70D''s 20.2 Megapixel CMOS (APS-C) sensor, a first for an EOS camera with an APS-C sized sensor. A powerful DIGIC 5+ Image Processor supports continuous shooting up to 7.0 frames per second, as well as an extended ISO range of 100¿12800 (H: 25600) that allows shooting in a wide variety of lighting conditions. Stunning photos can be accomplished using the remarkable 19-point all cross-type AF system with a high precision dual cross f/2.8 center point, and advanced display options available on the Intelligent Viewfinder supply exceptional control. In-camera imaging features like HDR, HDR Backlight Control, Multiple Exposure, Handheld Night Scene, and Creative Filters available in real time help turn even simple images into spectacular photos. Elevating the possibilities of creative expression to extraordinary new heights, the powerful EOS 70D with Dual Pixel CMOS AF places the ability to capture both amazing stills and video right in your hands.
The Next Generation in Live View AF.
Canon's innovative Dual Pixel CMOS AF enables you to shoot video like a camcorder with smooth, fast, and accurate autofocus; lets you enjoy instant and precise autofocus even when shooting stills from a variety of angles with the freedom provided by the Vari-angle LCD; and provides amazing autofocus power with 103◊ compatible Canon EF lenses when shooting photos or video. Dual Pixel CMOS AF
The EOS 70D features Canon's all-new Dual Pixel CMOS AF, a revolutionary leap forward in speed and accuracy that unlocks the potential of Live View shooting. This game-changing technology will forever change what is possible with a DSLR camera.
---

Shoot Video Like a Camcorder
The benefits of the groundbreaking Dual Pixel CMOS AF are clearly evident in video shooting, where bringing scenes and subjects into focus is a critical element of the final composition. On the EOS 70D, Dual Pixel CMOS AF helps ensure focus is achieved naturally and precisely, even when switching between subjects. And, combined with the predictive power of Movie Servo AF, subjects in motion are smoothly and consistently tracked – once the EOS 70D locks focus, it doesn't let go. Plus, with the shallow depth-of-field afforded by EOS optics, your video gains a cinematic ambience.

Compositional Freedom, Quick and Accurate Live View Focus
For stills, Dual Pixel CMOS AF makes Live View AF precise and faster than ever, freeing the photographer to take advantage of the freedom of angle afforded by the camera's Vari-angle LCD monitor. Whether capturing images of athletes on the field or kids in the park – with a tripod or handheld and operated from a number of angles and positions – crisp focus can be obtained nearly instantly across a wide shooting area, especially useful for those spontaneous or fleeting shots. And, when composing and shooting in Live View mode, the image, exposure and chosen effects can be previewed before shooting, ensuring better accuracy, increased comfort, and more control from the start.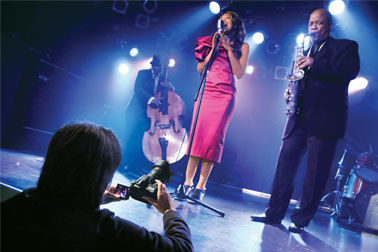 ---

Compatible with 103 Canon EF Lenses
103 Canon EF lenses are able to fully realize the benefits of Dual Pixel CMOS AF. Compatible lenses greatly expand creative and compositional possibilities so users can enjoy a wide range of endeavors made possible through various lenses whether shooting still images or video.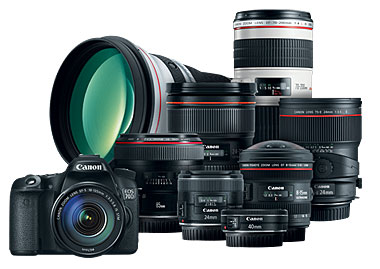 ---

The Genius of Pixel Based AF
Dual Pixel CMOS AF is a cutting-edge Canon technology, made possible by a sophisticated redesigning of the CMOS sensor. Traditionally, image sensors have one photodiode per pixel, but the CMOS sensor on the EOS 70D has two photodiodes per pixel, enabling each pixel on the sensor to both perform phase-difference detection autofocus and capture light – a first for EOS cameras. With phase-difference detection AF, autofocus is achieved quickly and easily on the camera. This unique AF system enables autofocus on 80% of the image plane, vertically and horizontally, and helps ensure virtually no loss in image quality.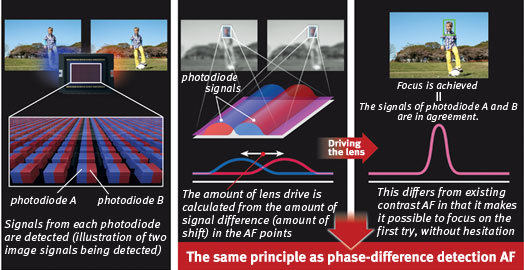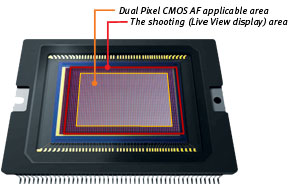 Additional Info
Additional Info
SKU
32025
Warehouse Location
25C
Condition
New
Color
Black
Manufacturer
Canon
Warranty Included
Yes
Megapixels
20
Optical Zoom
No
Manufacturer Part Number
8469B002
Screensize
3" LCD
UPC/EAN
138032215960
What's in the Box

LP-E6 Rechargeable Lithium-Ion Battery Pack (7.2V, 1800mAh)
LC-E6 Charger for LP-E6 Battery Pack
IFC-400PCU USB Interface Cable
R-F-3 Camera Cover
Eyecup Eb
Wide Strap EW-EOS 70D
EOS Digital Solution Disk CD-ROM